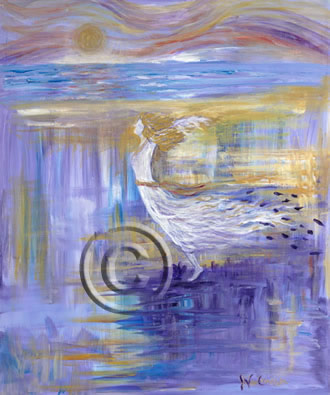 Painting Sizes:

PRICE

A. Beauty for Ashes
(enhanced giclee print on canvas 20x24)
B. Beauty for Ashes
(limited edition print 11x14 matted to 16x20)
C. Beauty for Ashes
(8x10 Prints)
Description:
Beauty For Ashes was the result of a vision for a woman who had to be away from her family for nine months to receive training to prepare her for a new place of leadership and authority in her church. Her obedience to follow God into the new, even if it meant temporary separation from those she loved, was greatly rewarded. She is now an ordained pastor and impacting the lives of many families in her church and community.

Isaiah 61:3 says,"He bestowed on her a crown of beauty instead of ashes, the oil of gladness instead of mourning, and a garment of praise instead of the spirit of despair." All of our lives are challenged by changes God requires so that we can move into new beginnings and walk in the fullness of our destiny. These changes can be trying and discomforting. But if we will be obedient and allow Him to remove the ashes of our past, we will be rewarded with gladness and praise in our new place in Him.